SA cosmetics manufacturers ready to meet the export demand
The South African small business manufacturers in the cosmetics industry would do well in international markets and meet the high export demand as their products are of high quality and are affordable. This was said by the Executive Director of the Cosmetic Export Council of South Africa (CECOSA), Ms Theresa Moller during the last day of Cosmoprof Exhibition in Bologna, Italy.

Moller said with competitive prices and the right strategies, South African manufacturers can have an edge over multinationals and an opportunity to expand their products into the European markets.

"CECOSA has committed resources to support small businesses in achieving global exposure through market intelligence. It is therefore imperative to attend future Cosmoprof or related events in order to expand international supply chains, expose South Africa's products, and introduce new and innovative brands into the European market," said Moller.

According to Moller, the value of the cosmetics sectors in retail is approximately R27 billion and R20 billion in manufacturing and has steadily grown over the years. She said this is an indication that South African brands owners are ready to meet the demand and compete globally.

The Director of Tshwane-based Afri-Berry, Ms Relebohile Moeng, who was part of the business delegation to Cosmoprof, said she managed to meet potential buyers who showed interest in her company's organic shea butter, cold pressed argan oil and organic Jamaican black castor oil.

"A lot of targeted salons and buyers indicated that the cosmetics market was organic-ready and that there are opportunities for our brand to do well in the European market. We just need to register our product and comply with the European Union requirements," said Moeng.

The Managing Director of Empire Salon Specialist, Ms Maggie Govender said Cosmoprof offered them a wide range of different products and market intelligence that other professional beauty shows do not provide.

Govender said she met possible clients from France, Asia and India wanting to import her wide range of facial creams.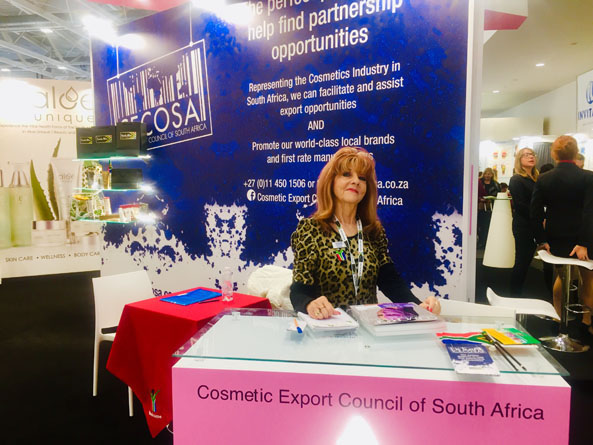 The Executive Director of the CECOSA, Ms Theresa Moller at Cosmoprof Exhibition in Italy.
Enquiries:
Sidwell Medupe-Departmental Spokesperson
Tel: (012) 394 1650
Mobile: 079 492 1774
E-mail: MSMedupe@thedti.gov.za
Issued by: The Department of Trade and Industry
Follow us on Twitter: @the_dti
Share this: